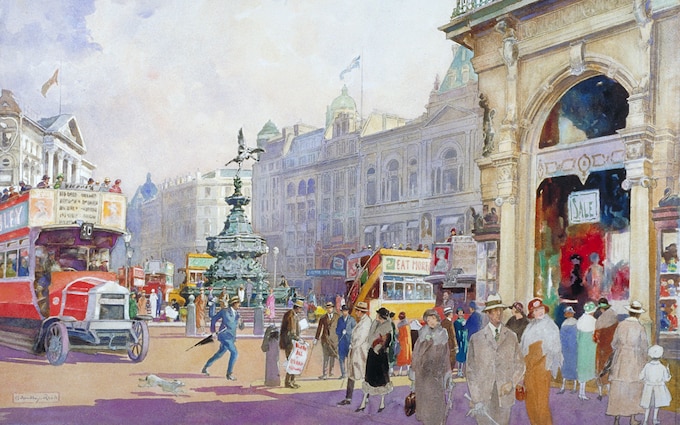 A century ago, western society had emerged from the tumultuous impacts of the Great War. With it a cultural phenomenon was unleashed defining an entire decade. American in origin, the Roaring 20s influence was pervasive rocking European capitals, and just about everyone and everywhere. The world of travel and tourism was sucked in too; must-see destinations quietly and subtle aligned themselves with modern place marketing techniques, companies invested in up-to-the-minute deluxe travel modes, whilst the mood music acted as a catalyst for a reinvigorated hospitality sector where staying, eating out, and generally partying characterised the period.
It had been all so fast-paced. A travel industry, fused by the latest technology of the time, came to a juddering halt in 1914. Europe, over the next four years, was severely damaged, both in the physical sense and mentally; conflagration badly twisted nations and humanity leaving lasting legacies setting the seeds for further conflict within a generation. Britain and the Continent badly needed an escape valve, the Roaring 20s came to be seen as that perfect all-encompassing label.
And currently, in a world literally ground down, not by traditional warfare, but relentlessly pulverised by Covid and its aftermath, could 2022 be the year of a Roaring 20s reawakening? Real similarities between then and now exist, an uncertain world, the likely ending of a global pandemic, Silicon Valley's relentless hold on digital technology, a green transport revolution, political polemics, China, and Russia attempting to strut the world stage, and soaring stock markets: A volatile combination.
A century ago it was not that straight forward either. For Britain economically it was a mixed bag with periods of rapid growth, marked contraction, and slump as a return to the gold standard priced exports out of reach for traditional industries, precipitating the General Strike of 1926. Yet for those with regular income – the salaried middle-classes did particularly well – the Roaring 20s were a lot more signifying a profound social and cultural shift, and an opportunity to enjoy a freedom-led lifestyle. But when did this all start to take place? 1922 seems a reliable bet.
So, let's head back to assess comparisons. On the travel front Imperial Airways was a twinkle in the sky, and on the high seas shipping lines used to showing-off their best-looking vessels restored a degree of normality once it was safe to do so. Cunard acquired the German steamer Imperator for the wartime loss of Lusitania. The ship was extensively refitted (converted from coal firing to oil burning in 1921) and renamed RMS Berengaria. Thus began a 20th century company tradition as Cunard's first queen – named after Queen Berengaria, the Queen Consort of Richard the Lionheart. Similarly, Bismarck, launched in 1914 was not completed before war. She lay dormant for the duration, left rusting in the shipyard, having been scavenged and torn apart for her most precious metals.
In 1922 the ship was eventually finished by her German builders under close supervision of British firm Harland and Wolff keen to avoid any possibility of commercial sabotage. Handed over to White Star Line, in reparations for the loss of liner Britannic to a German submarine, she was rechristened Majestic. The company's Manhattan office even coined the phrase 'the world's largest ship' for marketing literature, and much in tune with the city's agenda setting clientele and skyscraper built architecture, set in motion an American tourist invasion of Europe. It also captured a period temperament. Within a year Josephine Baker's oft used photograph of her performing the Charleston dance craze was set against an image backcloth of Cunard ocean-going liners, and a montage of New York's water-fronted buildings.
These sumptuously appointed vessels, distanced somewhat from an 'ocean palace' tag of a decade or so before, joined other traffic on the New York-Southampton Atlantic Ferry. Cunard and White Star each now had a trio of big ships, America too possessed a grand liner in Leviathan (formally Vaterland) appropriated from Germany after US entry into the war, and the French showed the world their latest ground-breaking design plans. Fast transit of the North Atlantic, to be undertaken in impeccable style, was back in vogue.
Into this heady concoction there were new travel dimensions. Cunard introduced its fleet of new 'S' class single-funnel intermediate liners, Franconia, Lancastria, Laconia and Scythia, well-appointed single-class ships operating out of Liverpool on runs via Cobh and Derry to New York, Boston, and other Canadian ports. But they were splendidly different vessels specifically designed for dual-purpose cruise duties, signifying a trend that became progressively fashionable during the 1920s. Cruising was highly popular with well-heeled Americans, particularly winter cruises and world-itinerary formats meaning months away for those that could afford it and without the restrictions imposed on life by prohibition. Travel firms such as Thomas Cook and American Express took this in their stride; anxious travellers could now escape a stultified East Coast life.
Moreover on land it was all change as the last vestiges of Britain's pre-grouping railway companies dusted themselves down after years of underinvestment. Likewise, on war-torn continental railways. The Pullman Company initiated a massive rebuilding and modernisation programme that stretched across Britain and northern Europe. Giant limousine-styled twelve-wheeled carriages graced the country's key routes as well as a succession of newly built prestige stock. Grandly titled Pullman trains, such as Queen of Scots, set the trappings of Anglo-Scottish luxury railway travel. In December 1922 PLM and CIWL Wagon-Lits unveiled its British built steel-clad Blue Train/Le Train Blue, a premier first-class only night-train that sped from Calas and Paris to the dazzling French Riviera coast.
Roaring 20s was pretty apt too; Blue Train/Le Train Blue was a deluxe train and officially deemed a new sleeper service. Not much sleeping took place though as elite passengers partied the night away aboard dedicated restaurant and bar cars offering a new generation of pleasure-seekers a unique travel experience. The train delivered more flamboyance and unrivalled superiority than any preceding service, a lodestone for America's plutocrats and rich industrialist families.
Rail operators and shipping lines were at the forefront of a new and modern transport revolution which did its bit to deliver economic and cultural prosperity to both sides of the pond. But the main thrust was Stateside. Privileged American travellers, not able to 'do Europe' for years, stored up enormous purchasing power and by the end of 1922 they were quite literally arriving in droves unleashing decadent spending power in an uncompromising manner. And it characterised a decade of conspicuous consumption so labelled the Roaring 20s.
Aside exclusive travellers, the 1920s saw the emergence of a new designation of American visitor. Tourist third cabin passengers were an 'educated backbone' and 'the solid middle class of the United States' who felt at ease in Britain and Ireland. They represented 20th century industrial progress as tourism moved from an 'elitist and uncommon pastime to a thriving middle-class activity'.* Many Americans expressed interest travelling abroad eager to discover foreign cultures and family roots. Hardly surprising Britain and Europe was the vanguard of a travelling fair.
Another cultural dynamic was at play. In many countries women were awarded the vote, and it was the female form that left a lasting legacy that the past was the past, representing a break from male-dominated tradition. The role of women in society was unescapable revealing novelty and modernity putting them at the centre of new dance and music cultures; the period often referred to as the Jazz Age. Pictures of women were universal and could be seen outwardly to define travel destinations. Aside the usual mix of sun-blessed spots in France and Italy, Germany was in fashion as well providing a rather distinctive cultural edge.
American and British visitors to Germany greatly outnumbered those from any other country. Chicago and the Mid-West provided a steady stream. Speeding them in style to central and northern European cities was the order of the day, and particularly so for many American visitors the sons and daughters of millions of German speaking immigrants who originated from Germany, Switzerland and the Austro-Hungarian and Russian Empires.
The 1920s were characterised by rich and well-connected people, including businessmen, moving about as never before in Berlin, a much-pursued destination with its distinctly decadent and enlightening atmosphere. The Weimer Republic city had recovered from the austerity of the immediate post-war where food shortages were rife, and a general mood of gloom that had encompassed the capital.
During the intoxicating years of the mid to late Roaring 20s, Berlin afforded a sanctuary for British writers, those in search of adventure, thrill-seekers drawn to the city's heady hotspots as well as the inquisitive visitor bemused by an eclectic mix of art, music, film and just about everything else. 'Suddenly, Germany (especially Berlin) was modern, innovative, sexy and exciting. Even the chronic political instability gave life there an edge – particularly appealing to those keen to escape the staid conventionality of Britain' says author Julia Boyd.+
Travel and transport developments undoubtedly left their mark on the decade, especially those businesses operating in the deluxe sector. What was remarkable was the increased levels of leisure time, and a growing reliance on consumer spending to power economies. Wide-scale usage of cars, telephones, radio, and electrical appliances driven by mass-market advertising delivered a degree of growth. Traditional publishing interests morphed into a much-broadened media industry that included film, and in a few short years the introduction of the talking picture.
Concurrent was a new phenomenon that focused on the celebrity, their supervision and look. For women who followed in the footsteps of movie stars it was all about managing a modern flapper look. And for a new type of actress – those who looked and sounded right on screen – they literally talked a movie-going public into brand-new and palatial cinemas that in turn defined a following Art Deco styled decade.
The Jazz Age ended as a damp squib with the 1929 Wall Street Crash, and for many the ignominy of financial ruin. The effects steam-rolled into travel and hospitality with an industry struggling to cope before bouncing back in a few years. But it marked closure of the Roaring 20s; resultant economic depression, supressed consumer demand around the globe, all lingered for a while prepressing unimaginable political fractures that in a few short years altered the world for ever.
So, where are we now? We've all been clobbered over the past couple of years – especially travel and tourism. The civil airline industry might have replaced traditional shipping transport, but presently because of the global pandemic and a wake-up call on climate change, aviation demand is on its back. The cruise sector is rewriting itself with a succession of new-build vessels whilst older ships head towards an appointment with the torch-cutter at Indian sub-continent beach scrap yards. And interest in the highly sustainable rail sector continues unabated as scheduled service, heritage and luxury leisure operators reconfigure their offers.
Yet destinations continually reinvent themselves to appeal to a new generation of tourists. Collectively, travel and tourism operators put faith in a natural consumer desire to put everything behind us and bounce back. Certainly, Covid has rewritten many operational rules that may alter travel landscapes for years to come – doom-mongers may point towards permanent change. Whilst the allure of international travel is always enticing, the staycation itinerary may have to appear top of list for another summer season. Who knows?
Wherever, travel takes us lets remain optimistic, celebrate, and let our hair down like we did a century ago. We all badly want to see the world again, and for a big chunk of the industries' world-wide labour-force, they badly need us too. So, could 2022 be the comeback year, a breath of fresh air, and the start of a new Roaring 20s era for tourism? We wait with bated breath.
* Lorraine Coons and Alexander Varias (2016), Steamship Travel in the Interwar Years: Tourist Third Cabin, Stroud, Amberley
+ Julia Boyd (2017), Travellers in the Third Reich: The Rise of Fascism through the Eyes of Everyday People, London, Elliott and Thompson